ABOUT MARIE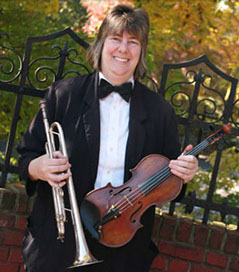 Marie Stack is a talented professional musician who is the leader and founder of MAS Music. She plays a variety of musical instruments which include violin, trumpet, piano, bass and drums. She has been performing, writing and arranging music from a young age appearing both as a soloist and featured artist.
MAS MUSIC
MAS Music offers live music for all types of events ranging from large elegant venues to small intimate settings. We can provide music for your wedding ceremony, cocktail hour, wedding reception, private event or corporate party. We are fully insured and perform throughout the tri-state area including Long Island, CT and NJ. All our musicians are professional, punctual and reliable.
Ceremony music packages consist of different combinations of musical instruments which include violin, trumpet, piano, flute, sax, guitar, bass and drums. We also offer string quartets, string trios and different duo packages. Our string groups and duo packages can play classical, pop and jazz music. We perform traditional as well as non traditional music and will happy to play any special musical requests you may have.
MAS Jazz
Comprised of our jazz quartets and various jazz trios. The jazz quartet contains sax, piano, bass and drums. The jazz trios contains (sax, piano, drums), (piano, bass, drums) or (guitar, bass, drums). These groups can perform all the jazz standards as well as be bop and swing music.
MAS 5 Piece Party Band
Consists of sax (vocals), guitar (vocals), piano, bass and drums. This group plays rock and disco as well as music from the 50's, 60's, 70's and 80's. The musicians in the band know how to entertain your guests and create a high energy performance. We also offer an option of basic DJ service along with the 5 piece Party Band so that all types of musical genres can be played.
MAS Swing
Our 15 piece big band performs music from The Great American Songbook which includes all the big band classics. The big band has performed at corporate events, weddings and outdoor concerts and received rave reviews.
Live music brings such an element of class to any function. We treat all our clients with respect and look forward to working with you to make your event a success.