CEREMONY MUSIC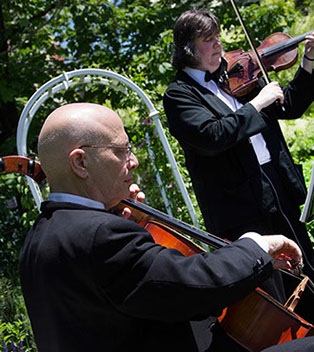 The sound of live music adds a touch of class and elegance to any affair. The sounds of the musical packages I provide will be sure to enhance your special day. We can play traditional as well as non traditional music and will be happy to accommodate your musical ideas. We have a large repertoire of songs and can provide suggestions to guide you as to your musical selections. Visit our media page to preview audio and video samples.
Click to view our Ceremony Music Repertoire.
Click to view our String Quartet/String Trio Ceremony Repertoire.
Available Ceremony Packages:
• string trio (2 violins, 1 cello)
• violin, flute and cello
• violin, flute and keyboard
• string quartet (2 violins, viola, cello)
• 2 violins
• violin and cello
• violin and flute
• violin and keyboard
• violin and guitar
• 2 trumpets
• trumpet and keyboard
• flute and keyboard
• soprano sax and keyboard
• solo violin
• solo trumpet
• solo keyboard / piano